Charles Proteus Steinmetz (April 9, 1865 – October 26, 1923) was a German-born American mathematician and electrical engineer. He fostered the development of alternating current that made possible the expansion of the electric power industry in the United States, formulating mathematical theories for engineers. He made ground-breaking discoveries in the understanding of hysteresis that enabled engineers to design better electromagnetic apparatus equipment including especially electric motors for use in industry.
Steinmetz was born Karl August Rudolph Steinmetz on April 9, 1865 in Breslau, Province of Silesia, the son of Caroline (Neubert) and Karl Heinrich Steinmetz. He was baptized a Lutheran, the religion his family "nominally" belonged to. Steinmetz suffered from dwarfism, hunchback, and hip dysplasia, as did his father and grandfather. Steinmetz attended Johannes Gymnasium and astonished his teachers with his proficiency in mathematics and physics. Steinmetz maintained a small cabin overlooking the Mohawk River near Schenectady, New York.
Following the Gymnasium, Steinmetz went on to the University of Breslau to begin work on his undergraduate degree in 1883. He was on the verge of finishing his doctorate in 1888 when he came under investigation by the German police for activities on behalf of a socialist university group and articles he had written for a local socialist newspaper.
As socialist meetings and press had been banned in Germany, Steinmetz fled to Zürich in 1888 to escape possible arrest. Faced with an expiring visa, he emigrated to the United States in 1889. He changed his first name to Charles in order to sound more American and chose the middle name Proteus after a childhood taunt given to him by classmates. Proteus was a wise hunchbacked character from the Odyssey who knew many secrets and he felt it suited him.
Cornell University Professor Ronald R. Kline, the author of Steinmetz: Engineer and Socialist, contended that other factors were more directly involved in Steinmetz's decision to leave his homeland, such as the fact that he was in arrears with his tuition at the University of Breslau and that life at home with his father, stepmother, and their daughters was full of tension.  Despite his earlier efforts and interest in socialism, by 1922 Steinmetz concluded that socialism would never work in the U.S. because the country lacked a "powerful, centralized government of competent men, remaining continuously in office" and because "only a small percentage of Americans accept this viewpoint today."  A member of the original Technical Alliance which also included Thorstein Veblen and Leland Olds, Steinmetz had great faith in the ability of machines to eliminate human toil and create abundance for all. He put it this way: "Some day we make the good things of life for everybody."
Steinmetz is known for his contribution in three major fields of alternating current (AC) systems theory: hysteresis, steady-state analysis, and transients.

AC hysteresis theory

Shortly after arriving in the U.S., Steinmetz went to work for Rudolf Eickemeyer in Yonkers, New York, and published in the field of magnetic hysteresis, which gave him world-wide professional recognition. Eickemeyer's firm developed transformers for use in the transmission of electrical power among many other mechanical and electrical devices. In 1893 Eickemeyer's company, along with all of its patents and designs, was bought by the newly formed General Electric Company, where he quickly became known as the engineering wizard in GE's engineering community.

AC steady state circuit theory

Steinmetz's work revolutionized AC circuit theory and analysis, which had been carried out using complex, time-consuming calculus-based methods. In the groundbreaking paper, "Complex Quantities and Their Use in Electrical Engineering", presented at a July 1893 meeting published in the American Institute of Electrical Engineers (AIEE), Steinmetz simplified these complicated methods to "a simple problem of algebra". He systematized the use of complex number phasor representation in electrical engineering education texts, whereby the letter j is used to designate the 90 degree rotation operator in AC system analysis. His seminal books and many other AIEE papers "taught a whole generation of engineers how to deal with AC phenomena".

AC transient theory

Steinmetz also made greater strides to the understanding of lightning phenomena. He undertook a systematic study of it, resulting in experiments of man-made lightning in the laboratory; this work was published. Steinmetz was called the "forger of thunderbolts", being the first to create artificial lightning in his football field-sized laboratory and high towers built at General Electric, using 120,000 volt generators. He erected a lightning tower to attract lightning and studied the patterns and effects of lightning resulting in several theories and ideas.

Steinmetz served as president of the Board of Education of Schenectady, and as president of the Schenectady City Council. He was president of the American Institute of Electrical Engineers (AIEE) from 1901 to 1902, as well as the first vice-president of the International Association of Municipal Electricians (IAME)—which later became the International Municipal Signal Association (IMSA)—from 1913 until his death. Steinmetz wrote 13 books and 60 articles, not all about engineering. He was an honorary member and advisor to the fraternity Phi Gamma Delta at Union (whose chapter house there was one of the first electrified houses ever).
Steinmetz was a lifelong agnostic.

Steinmetz died on October 26, 1923 and was buried in Vale Cemetery, Schenectady.
Based on Steinmetz experiments, Steinmetz's formula defines the approximate heat energy due to magnetic hysteresis released per cycle per unit area of magnetic material. Steinmetz equivalent circuit theory is still widely used for the design and testing of induction motors.
One of the highest technical awards given by the Institute of Electrical and Electronics Engineers, for major contributions to standardization within the field of electrical and electronics engineering, is named in his honor as the IEEE Charles Proteus Steinmetz Award.  His connection to Union College is celebrated with the annual Steinmetz Symposium, a day-long event in which Union undergraduates give presentations on research they have done. Steinmetz Hall, which houses the Union College computer center, is named after him.
Steinmetz was portrayed in 1959 by the actor Rod Steiger in the CBS anthology series, The Joseph Cotten Show. The episode centered on his socialist activities in Germany.  A Chicago Public High School is named for him.  A public park in north Schenectady, New York was named for him in 1931.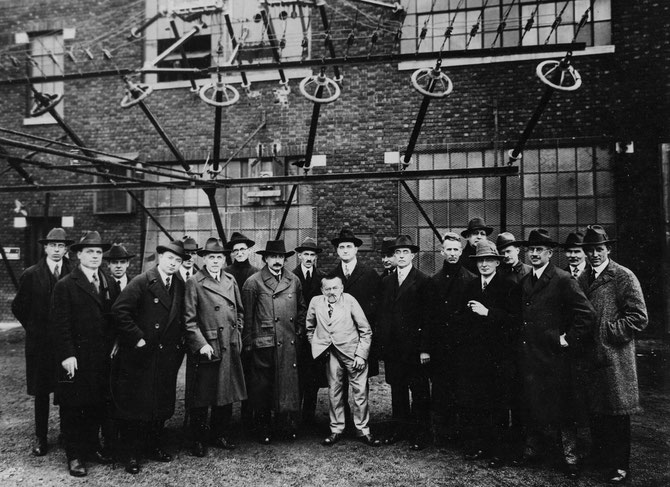 An April 23, 1921 photograph of Albert Einstein being given a tour in Radio Corporation of America (RCA) Brunswick in New Jersey wireless station (Marconi Wireless Station in Somerset) along with leading RCA scientist and officers as well as engineers and scientists from the General Electric Company, American Telephone and Telegraph Company, and Western Electric Company.
RCA News, Volume 2 By Radio Corporation of America (1921) identified the participants (reading from left to right) as: Mr James Casey special representative of the New York Herald, W. A. Graham, W. A. Winterbottom, David Sarnoff, Thomas J. Hayden of the Radio Corporation, Ernst Julius Berg, S. Benedict of the General Electric Co, Professor Albert Einstein, Mr John Carson of the American Telephone and Telegraph C0, Dr CP Steinmetz (Charles Proteus Steinmetz) of the General Electric Co (at centre), Dr A.N. Goldsmith of the Radio Corporation, Mr A. Malsin, Dr Irving Langmuir, Dr Albert W. Hull of the General Electric Co, Mr E.B. Pillsbury of the Radio Corporation, Dr Saul Dushman of the General Electric Co, Mr RH Ranger (Richard Howland Ranger) of Radio Corporation, Dr G.H. Campbell (George Ashley Campbell), of the American Telephone and Telegraph Co, Mr C. H. Taylor of the Radio Corporation, Dr W. Wilson of the Western Electric Co." The 1921 RCA News also stated: "Early in the morning Professor Einstein went to the Central Telegraph office at 64 Broad Street New York City. There he was met by Dr CP Steinmetz, Dr AN Goldsmith, Dr Irving Langmuir, Dr Albert W Hull, David Sarnofi, CH Taylor, and others.
At this office Professor Einstein was shown the method of remote control whereby the operators there control the powerful transmitting apparatus of the New Jersey Station. While he was inspecting the station communication was established with the radio station at Nauen near Berlin. In order to demonstrate the efficiency of radio communication Professor Einstein sent a message of greeting to the officer in charge of the German station. Exactly six minutes later he received the following reply "Many thinks and reciprocations. Most hearty greetings to the great German Scientist" Officer in Charge at POZ Shortly after this another message was sent to Count Von Arco, one of the leading German radio scientists. This message was signed by Einstein, Langmuir, Stein, and Goldsmith." In 1919, this old New Brunswick, New Jersey Marconi Company wireless station on Easton Avenue in the Somerset section of Franklin Township, Somerset County, New Jersey became part of the newly organized Radio Corporation of America (RCA) as station WII under the World Wide Wireless logo. See the Marconi Station in New Jersey article for more info.
Note: This picture has the popular culture attribution of being a depiction of Nikola Tesla standing in the second row between Einstein and Steinmetz. Tesla historian Marc Seifer identified the man as AT&T engineer John Renshaw Carson. RCA News, Volume 2 By Radio Corporation of America (1921), Capital District Library Council Digital Collections and RCA Engineer, Volume 17, RCA Research and Engineering, 1971 page 4 also identify the man between Einstein and Steinmetz as "John Carson".
Steinmetz held over 200 patents. The folowing list is a selection of some of his most important patents:

Certificate of Merit of The Franklin Institute (1908).
Elliott Cresson Medal (1913).
On the Law of Hysteresis, AIEE Trans., IX:3-64, 1892; Proc. of the IEEE, 72(2):197-221, doi: 10.1109/PROC.1984.12842
Complex Quantities and Their Use in Electrical Engineering, AIEE Proceedings of International Electrical Congress, July 1893, pp. 33–74
Theory of the General Alternating Current Transformer, AIEE Trans., XII:245-256, Jan. 1895
Theory and Calculation of Alternating Current Phenomena, with the assistance of Ernst J. Berg, 1897.

[

21

]

Information from this book has been reprinted in many subsequent engineering texts.
The Alternating Current Induction Motor. AIEE Trans., XIV (1): 183-217, 1897.
The Natural Period of a Transmission Line and the Frequency of Lightning Discharge Therefrom, The Electrical World, p. 203-205, August 27, 1898.
Speed Regulation of Prime Movers and Parallel Operation of Alternators, AIEE Trans., XVIII:741-744, Jan. 1901.
Theoretical Elements of Electrical Engineering, McGraw, 1902.
The Alternating-Current Railway Motor, AIEE Trans., XXIII:9-25, Jan. 1904.
Lightning Phenomena in Electric Circuits, AIEE Trans., XXVI(1):401-423, Jan. 1907.
Electrical Engineering Education, AIEE Trans., XXVII(1):79-85, Jan. 1908.
Future of Electricity, Transcript of lecture to the New York Electrical Trade School, 1908.
Primary Standard of Light, AIEE Trans., XXVII(2):1319-1324, Jun. 8, 1908.
The General Equations of the Electric Circuit, AIEE, Trans., XXVII(2):1231-1305, Jun. 8, 1908.
General Lectures on Electrical Engineering, edited by Joseph Le Roy Hayden, Robson & Adee, 1908.
Prime Movers, AIEE Trans., XXVIII(1):63-84, Jan. 1909.
The Value of the Classics in Engineering Education, AIEE, Trans. XXVIII(2):1103-1106, Jun. 9, 1909.
Radiation, Light and Illumination : A Series of Engineering Lectures Delivered at Union College, ed. by Joseph Le Roy Hayden, McGraw, 1909
Disruptive Strength with Transient Voltages, with Hayden, Joseph L. R. principal author, AIEE Trans., XXIX(2):1125-1158, May 10, 1910.
Mechanical Forces in Magnetic Fields, AIEE Trans., XXX(1):367-385 , Jan. 1911.
Some Problems of High-Voltage Transmissions, AIEE Trans., XXXI(1):167-173, Jan. 1912.
Instability of Electric Circuits, AIEE Trans., XXXII(2):2005-2021, May 13, 1913.
Recording Devices, AIEE Trans., XXXIII(1):283-292, Jan. 1914.
Outline of Theory of Impulse Currents, AIEE Trans., XXXV(1):1-31, Jan. 1916.
America and the New Epoch, Harper, c. 1916.
Theory and Calculation of Electric Apparatus, McGraw, 1917.
America's Energy Supply, AIEE Trans., XXXVII(2):985-1014,Jul. 18, 1918.
The Oxide Film Lightning Arrester, AIEE Trans., XXXVII(2):871-880, Jul. 18, 1918.
The General Equations of the Electric Circuit-III, AIEE Trans., XXXVIII(1):191-260, Jan. 1919.
Power Control and Stability of Electric Generating Stations, AIEE Trans., XXXIX(2):1215-1287, Jul. 20, 1920.
Condenser Discharges Through a General Gas Circuit, AIEE Trans., XLI:63-76, Jan. 1922.
Essay on Science and Religion at Project Gutenberg. Homer Heath Nugent, 1922.
High-Voltage Insulation, with Hayden, J. L. R. principal author, AIEE Trans., XLII:1029-1042, Jan. 1923.
Frequency Conversion by Third Class Conductor and Mechanism of the Arcing Ground and Other Cumulative Surges, AIEE Trans., XLII:470-477, Jan. 1923.
Four Lectures on Relativity and Space, McGraw, 1923.
Cable Charge and Discharge, AIEE Trans., XLII:577-592, Jan. 1923 .
Overdamped Condenser Oscillations, AIEE Trans., XLIII:126-130, Jan. 1924.